Why Choose Acumatica Customer Management?
If your business focus is on managing relationships with suppliers, distributors, partners, customers and prospects, Acumatica provides a best-of-breed approach that limits the unnecessary cost and complexity of integrating with additional CRM platforms.
#1 ERP and CRM that work together. Customer Management (also called Customer Relationship Management) was built into Acumatica from the very beginning. It is not a loosely integrated module like so many other midmarket ERP products. From marketing, quoting, and sales to delivery and post-sales support, customer information is always up to date and accurate.
#2 Integrated content management. Acumatica provides a consolidated view of all customer records in a single database. This access to all written quotes, invoices, and support cases provides to every member of your team a 360-degree view of all customer activities and records.
# 3 Visibility. Dashboards and reports provide real-time sales data to help your team manage forecasts, quotas, and results. Efficiently communicate and collaborate with customers through the Acumatica Customer Portal. Helpful tools give customers access to information about their interaction with your company and enable activities online.
See Acumatica CRM in Action
Take a look at the platform in action and see how the integrated interface makes training employees on a single platform easier. With full access to ERP data, you're never stuck waiting on data transfers from external platform integrations and are ready to manage to up to the date information with all of your contacts. Acumatica is true Cloud CRM that provides robust functionality to improve the interactions your teams have with customers, suppliers, distributors and contacts.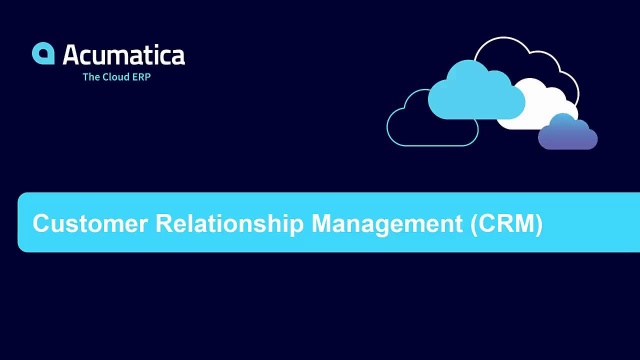 Improving CRM adoption, productivity, and outcomes
There are a number of reasons for businesses to avoid buying into a separate CRM platform that go well beyond the cost of licensing the additional platform. Most notably, the timeliness of information availability makes your reps better in their interactions with customers, suppliers, partners and distributors.  Acumatica's integration capability allows you to extend functionality to additional applications where necessary, yet the robust CRM capability helps you avoid having to make that integration your first move.
Acumatica is an enterprise resource planning software that was designed to incorporate CRM tools as integral elements of the core system and not merely add-on. Armed with a suite of application features, Acumatica ensures accuracy in marketing, sales-to-delivery, customer service and post-sales support. Access to data is particularly easier with Acumatica single, integrated database.
One constant in the world of CRM implementation:  Adoption is the key to successful implementation of CRM. Ease-of-use should be considered as the main feature while getting a CRM. In fact, low adoption rates are the primary cause for the failure of CRM. By utilizing a robust CRM application within your Acumatica ERP platform, you eliminate the need for reps to log into a different cloud system. The same application being used for order management can provide contact data for your next call, which is then logged into the CRM platform.  Your users avoid the complexity of hopping between browser screens to service customers and prospects in a quick and easy manner.
Pipeline management and workflow driven lead management help salespeople remain efficient and productive. With an easy to use Outlook add-in, your emails can be easily moved into the CRM platform eliminating extra steps for sales and customer service, while at the same time increasing usage of the platform.
Want to learn more about Acumatica CRM?  Contact us today at 866-713-7877 to learn more.